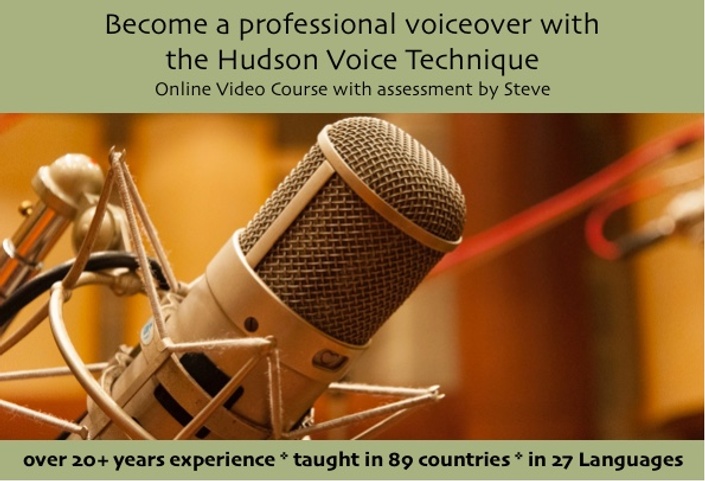 Voicemaster Voiceover Course Online
Online Video Course with assessment by Steve & Voicemaster Diploma.
Watch Promo
What is the Hudson Voice Technique?

It is a powerful structured technique that has a permanent affect, so there is no doubt that the Hudson Voice Technique is the most important skill for voiceover artists.

The Hudson Voice Technique has been taught for over 15 years, training Fortune 500 CEO's, BBC newscasters, call centre operators and many corporations including ING Bank, British Telecom, Carlsberg Tetley, and of course, those who want to earn extra money as a voiceover artist.
There is no doubt that learning how to speak professionally will make a significant difference to your success as a voice over artist.

A piano can be played by instinct, but if you want to be a concert pianist, you will need to learn a technique. In a similar way, your voice is an instrument, so by learning a technique, you will have full control over your voice just like other leading voiceovers.
It's also fun when your friends hear you on the television or radio!
It has been accredited by the Law Society for 16 hours CPD training and we are official trainers at Oxford University, the Singapore Media Academy and Bloomberg UTV.
---
How it works:
There are 10 Video Tutorials with scripts for you to print.

It will take 20 minutes a day, for 2 weeks. depending on your input.

• Before Recordings. Before you start the course, we ask you to record some scripts to establish your starting point. These are your 'Before Recordings'. Keep them safe in a folder.
• Learn the 7 elements. Go through each element of the course, guided by Steve.
Practice each element until you're confident and then move on to the next one.
As you go through the course, record yourself so you can listen back and correct anything that's not quite right.
• Practise. Now you've gone through all the elements, practise for 20 minutes a day until it becomes second nature,
• After Recordings. Now we ask you to record the same scripts you recorded before you started the course.
• Assessment. In order for you to be assessed, you need to send your 'Before and After' recordings to Steve. If there is anything he feels needs more attention, he will go through it with you and ask you to practice a bit longer and assess you again.
• Diploma. When he is happy with your progress, you will be sent your Voice Master Diploma.
• Your Demo CD. We will give you all the advice you need to record a good demo CD.
• Getting started. We will recommend the best online voiceover agent.
When you have finished this course you will be qualified to record voiceovers professionally.
---
Other benefits of this course:
Improve your presentations at school or work
Decrease study time because of enhanced memory retention
More success at job and promotion interviews because you will be more confident
Your Instructor
Secrets of the Black Magic Box Man (Reprint from TV Times)
Steve Hudson started as a trainer with 3M Company and Xerox (London and Washington DC) as International Communications Trainer. Working in Washington, he trained politicians and became Communication Consultant for members of the Senate and many of the Fortune 500 companies.
He soon realised that most salesmen and politicians were well trained in product knowledge, but many of them were poor communicators. It was obvious they needed a technique to be more positive and persuasive. After considerable research in America and the UK, he was surprised and disappointed to discover that no such technique existed.
Working in Washington DC, he was lucky enough to meet Frank Sinatra, who was one of the best communicators in the world. Just listen to the clarity of his voice and delivery when he sings.
When he mentioned to Mr. Sinatra he couldn't find a communication technique, he replied: "So create one."
As it turned out, it was a brilliant piece of advice!
When he returned to London, he decided to train at the National Theatre in London to learn the secrets of great actors.
During the next few years, he became a successful international voiceover, recording Fuji, Mitsubishi, Guinness, Gallo Wine, Old Spice, Martini, Superman and many others. He came close to real stardom when Cubby Broccoli was casting for the lead role in James Bond movies; Steve said he lost by an eyebrow (and a few million pounds) to Roger Moore.
Steve Hudson has won a number of awards for production and performance, including Best Radio commercial at the Hollywood Radio and Television Society for 'Sound International'.
Click here to listen to some of Steve's voiceover work.
Steve has enjoyed working with and interviewing many stars and celebrities, including the multi-talented Miriam Margolyes, Barry Ingham, Frank Sinatra, Roger Moore, the Duke and Duchess of Bedford, Lord Lichfield, David Bailey, Hulk Hogan, Pele and Tracey Ullman.
Course Curriculum
Welcome
Available in days
days after you enroll
Practise
Available in days
days after you enroll
Frequently Asked Questions
How long does this course take?
The course takes about 1 hour a day for two weeks, but it is a completely self-paced online course - you decide when you start and when you finish.
How long do I have access to the course?
You will have access for 6 months and renewable upon request.
What if I am unhappy with the course?
Well...that would be a surprise, but of course, if you genuinely feel this course doesn't work for you, contact us in the first 5 days we'll give you a refund. But remember, this course carries a lifetime guarantee so you are always welcome to contact us for help.
Will you get me voiceover work?
We are not an agent, but we will recommend two of the best online agents, and of course advice about recording your demo CD.
How long has this course been established?
The Hudson Voice Technique has been taught for over 15 years to BBC presenters, voiceovers, actors, company staff and people speaking a second language. It has been accredited by the Law Society for CPD training.
Is there a guarantee that I will earn money as a voiceover after finishing this course?
Most people do, but this is show business, so there are no guarantees, but if you put in the effort of getting your voice out there, there is no reason you shouldn't be increasing your income. I've earned a small fortune and enjoyed every minute recording voiceovers all over the world.
Does this course really work?
Yes it does!

Click here to see video testimonials from our students

---
"Hi Steve, I received your home study course and I am very impressed with both content and packaging. As a professional voice talent for 15+ years and a consumer of "all things voiceover", I've become somewhat jaded by some of the slapped together products that are being sold on the market for a fast buck today. Your product is the example of the exception. Extremely well produced, thoughtfully arranged and tastefully packaged, this is a "master class in a box" for voiceovers. Bravo on a great job, you've taught this "old dog" a new trick or two.
Gene Tognacci, Texas, USA
---
Hi Steve!
Just a quick note to say a big "THANK YOU!" I attended the course earlier this year and have been very busy since! I now have the confidence to read in public, professionally and enthusiastically. I have sent around 10 copies of my demo CD to various radio and TV stations and as a result I HAVE HAD FOUR OFFERS for jobs! So, THANK YOU Steve and all the staff on that day for a fruitful and enjoyable course. Once I got the kids to bed, I really enjoyed practising the elements of the Hudson Voice Technique.
Kindest regards, Bakula Tanna

---
"I thought I would drop you a line to let you know how I am doing. Since finishing your Hudson Voice Technique home study course, I have been successful in landing quite a few voiceover jobs and have got repeat business already. I really can't thank you enough – I thought I could talk and read quite well (well you do don't you?), that was until I did the course and really started to learn how to do it. Once again Steve thanks a lot." Roland Moore
---
"Why Voice Master? Well, I was impressed by the personal and interested approach of Steve and his staff. Was it the right choice? As a beginner one can only gauge satisfaction as a feeling of, 'Was my money well spent?' The answer was definitely yes! Any success? From being a total beginner, in the last twelve months I have completed a 13-part music series as a presenter for Sony TV, and there is also talk of a second series. From that I was put in touch with a production company filming a travel show, and I have recently finished filming on location in South America. I am now supported by a reputable agent (recommended by Steve). It is reassuring to know that Steve's experience and quality advice is available at the end of a phone line. Would I recommend it? Yes, without a doubt."
Ranj Nagra – Manchester
---
"Since I finished the Hudson Voice Technique home study course, I have picked up some nice bits of work. I already had quite a bit of experience as a voiceover artist.
The Hudson Voice Technique made me more confident and I found that voiceover recordings were finished quicker. In one job in particular I even amazed myself! There was another person who was supposed to work with me but didn't turn up, and I ended up doing twice the work in half the time, due to your training, and they only had to pay one person, not two. It was great - it was for Friends of the Earth, and they were very grateful because their budget was very tight."
Brandilee Nel
---
"I must say that although I came to the course as a professionally trained actor, the Hudson Voice Technique has proved invaluable in giving me with the very specific skills I needed for my public speaking. I cannot think of a better and more essential preparation to give me the confidence I needed. I would not hesitate to recommend it!"
Matthew Eades
Trained: Drama Studio London – Acting Diploma (NCDT Accredited)
---
"I would just like to let you know how the techniques I learnt on the Hudson Voice Technique course have helped me study for my Masters degree. Through my own experience, it is assumed that reading is a given for the academic student. However, the techniques learnt on the course can improve the efficiency with which you read and can help to absorb and assimilate information more effectively in any area."
Dr. Sarah Davies MBChB
---
Thanks Steve! I only wish I had known about your technique while I was actually working for the BBC! I was a producer and presenter at the BBC World Service for ten years and what I know now (and practice) would have saved a lot of production time and made programmes more effective. During the course of that decade I must have produced thousands of programmes and presented many hundreds. A lot of them lacked one essential ingredient that is supposed to be the lifeblood of every broadcaster – listenability. There was no formal training at the BBC and when guidance was offered it wasn't a patch on the Hudson Voice Technique.
I learned more about reading and broadcasting in two half-day sessions with you Steve, than I did in ten years at the BBC. Only now can I count myself a professional broadcaster and voiceover.
Hugo Fay
---
'I've been a broadcaster for twenty years and I would recommend the Hudson Voice Technique to anyone who truly wants to learn a technique that will give you an edge over your competition. I never even knew I had a number 10 voice, much less a number 5 voice!'
My first thought upon receiving the review product was, "Wow! This is nicely put together!" …Did I come away from this home study course feeling as if I learned something? Yeah I did, and yeah, I'll go back and do the lessons because I feel it will make a difference in my radio career and my fledgling voiceover career…'

Chuck Taylor, syndicated radio host/broadcaster, USA
---
'I would like to thank you most sincerely for the work you have done with my daughter, which has quite clearly given her increased confidence and made possible the widening of her career possibilities in her own mind if not yet in the minds of others…'
Nicholas Barter, Principal, Royal Academy of Dramatic Art, London
---
Don't wait any longer......realise your dream of becoming a voiceover.