The Hudson Voice Technique is the only communication system in the world that teaches you a technique which qualifies you as a voiceover.
"By creating this technique, Hudson has established himself as the world's leading voiceover trainer..."
James Grant, CEO Testsonthenet

As you know, Steve has been an international award winning voiceover for over 25 years and has taught this technique to BBC, Bloomberg UTV and other broadcasters, voiceovers and actors. He will not only share his extensive knowledge with you, you will get invaluable time with him live via video link (think Skype).
How it works:
Part One
Introduction and Before Recordings
Before your session with Steve, we ask you to log into the course online, watch Steve's introduction video and go through the lesson: 'Before Recordings'. You can download the scripts and print them.
When you've recorded the scripts belonging to this lesson, please send them to Steve in MP3 Format so he can listen to them before you meet.
Once we've received your 'Before" recordings via email, we will set a time and day for your live session with Steve.
Part Two
Live session with Steve Hudson via Skype or GotoMeeting.

Steve will introduce the course to you and explain the process.

He will give you an initial assessment of your voice and delivery & give you advice on what in particular you will need to pay attention to during the course.
Part 3
The Course:
Duration: 2 weeks, 20 minutes a day

We will give you access to the online video course where Steve teaches you how to control the tone, pace, pitch and volume of your voice, microphone technique and how to interpret voiceover scripts.
There are 7 Video Tutorials with scripts for you to print.
Go through each element of the course, guided by Steve.
Practice each element until you're confident and then move on to the next one.

As you go through the course, we advise you to record yourself so you can listen back. We will of course give you all the information you need to do this.
Practise - Now you've gone through all the elements, practise for 20 minutes a day until the technique becomes second nature.
Part 4

Live session with Steve for your assessment

Now you've done all the hard work, it's time for your assessment. This session with Steve will have been booked in advance.
When you have gone through the lesson 'After Recordings', we ask you to send your files to Steve so he can listen to them.
During your session, Steve will give you his findings. If anything needs more attention, he will go through it with you and of course you can fire any questions at him.
He will give you advice on recording your demo CD and working from home on your computer.
When he feels you have mastered the technique, we will send you your Voicemaster Diploma. We will then recommend two of the best online casting agents who can offer you the chance to record voiceovers for companies all over the world. Unfortunately, no exciting trips abroad because most voiceovers are recorded from home.
You are now a qualified voiceover and ready to move to the next phase.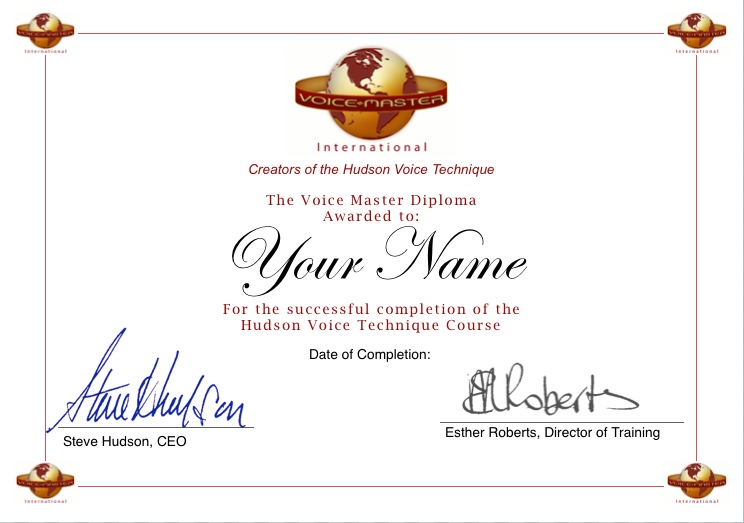 Other benefits of this course:

Improve your presentations at school or work
Decrease study time because of enhanced memory retention
More success at job and promotion interviews because you will be more confident
If English is your second language, this technique will reduce your accent because it teaches you to slow down and sound clearer.